This OBS is now closed, but you're invited to our next study - The Case for Christmas! Sign up here to receive your FREE 2018 Advent Toolkit. The study starts November 26th.
Registration is now closed for the Church of the Small Things online Bible study. We hope you will join us for our next study at studygateway.com/obs
Why do we spend our lives waiting for the one big thing when all around us are small, precious moments that end up mattering the most?
Join us for our next Online Bible Study and get access to all 6 FREE study videos + FREE goodies from Melanie Shankle and the brand-new book and study, Church of the Small Things
Join the study before October 23 and receive these goodies:
4 downloadable prints from cover artist, Heather Gauthier
Church of the Small Things lock screen
The first 3 chapters of Church of the Small Things to get started reading now
Session 1 of the Church of the Small Things study guide
Access to all 6 study videos from Church of the Small Things
Free Kickoff Event with Melanie
Monday, October 23

9:00PM - 10:00PM Eastern
8:00PM - 9:00PM Central
6:00PM - 7:00PM Pacific
Can't make the event? Don't worry! You can still sign up for the study and we'll send you the replay.
You can do the study on your own, with our online community, with a church or small group.
Each week's video is 15-20 minutes, a short investment of time!
We've made big improvements to our discussion groups - we hope you love the changes!
Teacher Melanie Shankle will be with us for the kickoff and stopping in to say hi along the way!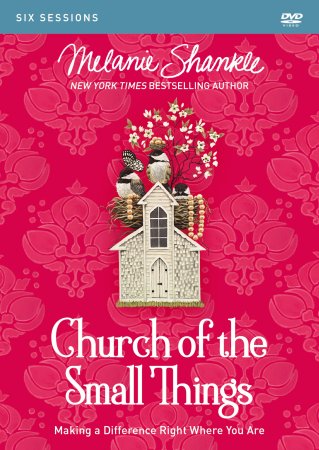 Meaningful Life Is Really Found in the Small Things
It doesn't matter how old we are or what kind of work we do, we've all wondered at times, "Does my life really matter?" Do the everyday events and messy moments make any kind of difference? Is it okay to be fulfilled by the simple acts of raising kids, working in an office, and cooking chicken for dinner?
The million little pieces that make a life aren't necessarily glamorous or far-reaching. But God uses some of the smallest, most ordinary acts of faithfulness--and sometimes they look a whole lot like packing lunch.
In this six-week Bible study you'll look at some popular and famous Bible stories and study them with new perspective...
... And discover that you can embrace what it means to live an abundant and incredibly meaningful life finding beauty and laughter in all the small things!
Our life is full of small moments and small wonders that God is using in such a big way. And I think the small moments in our lives are no less holy than the big ones. Maybe it's the small moments that are even more holy, because those are the million little pieces of our lives that God uses to make a difference right where we are.

Melanie Shankle

New York Times bestselling author, blogger - and she says this kinda blows her away that God can use her in this way - now Bible study teacher
Melanie Shankle writes regularly at The Big Mama blog and is the New York Times bestselling author of three previous books, including Nobody's Cuter than You. Melanie is a graduate of Texas A&M and loves writing and trying to find the lighter side in every situation. Most of all, she loves being the mother of Caroline, the wife of Perry, and the official herder of two wild dogs named Piper and Mabel. She grew up in Houston and now lives with her family in San Antonio, Texas.
Begin the study with us or with your own small group!
If you need help registering after clicking on one of the buttons above, or if the reCaptcha is not working for you, please contact our customer support team. reCaptcha is powered by Google and doesn't always work on every browser or device. We'd be happy to assist you and get you signed up!